23. August 2019
Suisse Tier - National Trade Fair for Farm Animal Husbandry
At Suisse Tier from 22 to 24 November 2019 you will meet leading suppliers and experts from the entire Swiss livestock industry. AgroVet-Strickhof will be there, visit us at our stand. Link to the Suisse Tier Homepage
6. June 2019
First AgroVet-Strickhof Conference
As already announced in November 2018, the first AgroVet-Strickhof conference will take place on 1 July 2019. Learn more about the current and planned research work and exchange ideas with the authors and researchers in personal conversations.
When? 1 July 2019 from 09:00 to 16:00 o'clock

Where? In the Forum at the AgroVet-Strickhof, Eschikon 27 in 8315 Lindau
You can find the program here: PDF (GERMAN)
19. March 2019
Agriculture of the Future – digital and sustainable?
AgriTech Day
AgriTech Day is a field day for young and old. Learn how modern science and technology can lead to sustainable solutions for Swiss agriculture. Exciting projects, demonstrations, and presentations await you on the fields in Eschikon. By participating, you can gain surprising insights from agricultural research and find out how resource-efficient and environmentally-friendly agriculture of tomorrow can look. Come and exchange ideas with our researchers!
Saturday, 25 May 2019
10:00 - 17:00
ETH-Research Station for Plant Sciences, Strickhof & AgroVet-Strickhof
Eschikon 27, 8315 Lindau

This innovative event is a collaboration of ETH Zurich, Strickhof and AgroVet-Strickhof.

15. February 2019
More environmentally friendly cows
Bovines eat a lot of soya and are the big emitters of greenhouse gases and the air pollutant ammonia. New feed additives for ruminants and an innovative cow toilet will help. >> open Article in PDF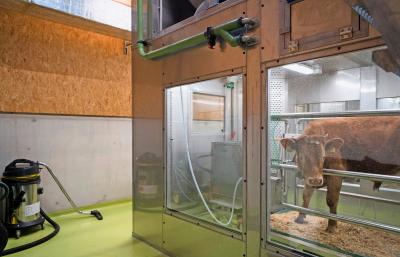 25. January 2019
Spring Conference 2019 «Big Data and Smart Livestock Farming»
On Tuesday 16 April 2019, the spring Conference of the Swiss Association of Animal Sciences (SAAS) will take place at AgroVet-Strickhof in Lindau. The topic of the conference will be «Big Data and Smart Livestock Farming». In addition to the lectures on the conference topic, there will be poster presentations on current research work in the field of animal sciences. Further information regarding the conference and the registration of poster presentations can be found on the SAAS website: http://www.svt-assa.ch/svt-tagungen.html

5. December 2018
«Young and Beef Cattle Barn AgroVet-Strickhof» opening and stabling
October 4th 2018 not only promised to be a sunny day, it was a milestone. The employees of the Eschikon Campus were able to explore the new young and beef cattle barn. Following the guided tour, there were many exciting talks and discussions about possible projects and new goals during an aperitif. But before that, Joël Bérard, Head of Research AgroVet-Strickhof, welcomed the guests from research, education and service. "AgroVet-Strickhof is like a living creature that constantly re-shapes and thrives to meet the needs of education, research and production," says Bérard. Andreas Rüsch, Strickhof Vice Director and Head of Agricultural Advisory Service, was also very pleased and thanked all those who were involved for their commitment on behalf of the Strickhof management in order to reach a successful finalization.

AgroVet-Strickhof celebrated its opening in September 2017, since then was repeatedly filed and screwed to other stables and animal shelters, so that a staggered commissioning could take place. Because research and education cannot wait. Therefore, the students could already use the existing possibilities extensively. Due to the successful completion of the last major construction phase, another milestone has been achieved, but this did not always seem so certain. Without the great commitment of Hanspeter Renfer, Head of Farm Operation, who literally used screws and fasteners at the very last minute, this would not have been possible. Therefore, it was also a special moment for him to guide the invited guests through his new barn and explain the group housing in the deep litter system as well as the high and low box system. Further, he was able to lend the special construction measures to the eager listeners, because this stable is built to the standards of an experimental animal husbandry. Moreover, there are individually programmable gates for the beef cattle, resulting in monitoring the feed intake. In addition to the needs of agricultural production, this barn must also help scientists to answer their research questions.

Already on October 8th, 2018, the first animals moved into their new home and quickly found their way into their new environment. Within a short time the animals learned to find their own feeding place and to open the gates with ease. The first project in the new stable started at the end of October. The doctoral thesis of Magdalena Kurrig (ETH Zurich) will investigate possible feeding strategies for the environmentally friendly and efficient production of high-quality beef under Swiss production conditions. These and other questions will be clarified at the new AgroVet-Strickhof Competence Center in order to contribute to livestock research.
Pictures and Impressions
2. November 2018
Save the date July 1st 2019
1st AgroVet-Strickhof Conference
Presentation of the research activities carried out in 2018
1st July 2019 from 09:00 - 16:00 o'clock at Forum, Eschikon 27, 8315 Lindau
29. October 2018
Swisscow 2018
On Sunday 28 October 2018 Swisscow took place at the AgroVet-Strickhof in Lindau ZH. In the fourth edition, Swissherdbook awarded 375 farms with outstanding management and/or exceptional breeding cows.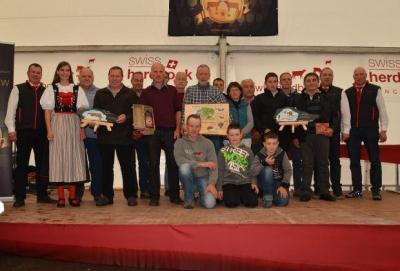 3. October 2018
Visit the «AgroVet-Strickhof» young cattle and cattle fattening stable and opening aperitif
Thursday, 4 October 2018, 17:30 o'clock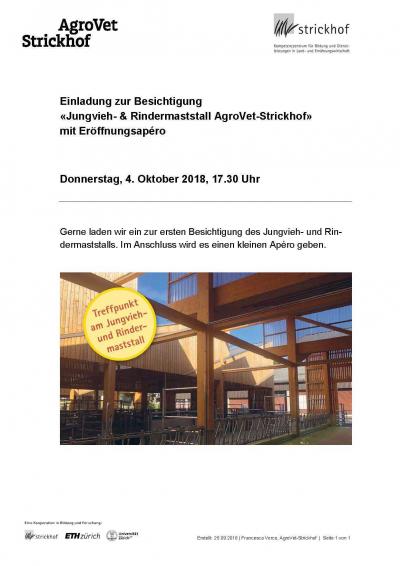 27. August 2018
3sat informed about AgroVet-Strickhof, the special farm
On Monday, 27th August 2018 3sat informed 3sat within the program «nano» about AgroVet-Strickhof in German.
This program gives a good overview about the work and the goals by AgroVet-Strickhof.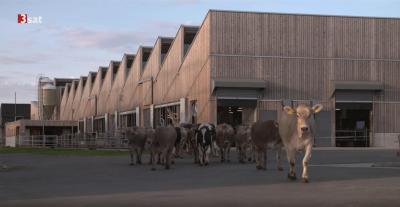 5. September 2017
Open days on 2. and 3. September 2017
On Saturday 2. and Sunday 3. September 2017 all AgroVet-Strickhof facilities were open to the public for viewing after the official opening on 1. September 2017. The project took ten years to plan and two years to build.
On this weekend around 15'000 people visited AgroVet-Strickhof. 2'500-3'000 came on Saturday and around 12'000 came on Sunday.  
The guests were delighted by the beautiful buildings, the various activities in the buildings and the information stands about AgroVet-Strickhof (>> see Poster (16MB)).
The culinary offering was appreciated by the guests. Besides various specialities served in the shed and in the Forum square, 1'300 Strickhof burgers, 1'500 grilled sausages and 500 portions of batter-fried apple rings. The guests also queued for milkshakes by Swissmilk: 500 litres were served. 
More than 300 people were employed to offer the guests the variety of activities. Both big and little children were delighted by the activities which can be seen in the photos. In the handicraft corner 420 mini AgroVet-Strickhof buildings were made which now decorate desks or are used as paper weights as a souvenir of the open days. 
Video impressions of the AgroVet-Strickhof site
Video by Nadia Posch, Strickhof, post-production by Malgorzata Sitnik 

Impressions of the AgroVet-Strickhof site
Photos by Brigitte Weidmann and Marc Wehrle, Strickhof
Impressions of the buildings
Photos by Brigitte Weidmann and Marc Wehrle, Strickhof
Impressions of the AgroVet-Strickhof site
Photos by Brigitte Weidmann and Marc Wehrle, Strickhof
Impressions of the children having fun
Photos by Brigitte Weidmann and Marc Wehrle, Strickhof
Impressions of conversations and catering
Photos by Brigitte Weidmann and Marc Wehrle, Strickhof
Impressions of the helpers
Photos by Brigitte Weidmann and Marc Wehrle, Strickhof
Further information retrospective
Our highlights
Stations with technical information and expert advice
Viewing of the dairy barn and all other buildings
Experience the milking robot and milking stand
Insight into the respiration chambers
Agricultural engineering exhibition
Cattle presentation of young breeders
Farm market with regional products
ETH-BigBand performance
Tour of the ETH research station for plant sciences
Information on education offered by Strickhof
Our special highlights for small and big children
AgroVet-Strickhof mini train
Petting zoo
Watch chicks hatching
HF Agro-Technik tractor course 
Build your own mini AgroVet-Strickhof
Milkshakes from SwissMilk
Catering
Steak, Bratwurst and Cervelat sausages etc.
Little chicken with french fries
Züri-Schnorre and big salad buffet
Farm ice-cream
Strickhof burger
Sunday brunch
Sponsors of the opening events
We would like to thank our main sponsors for their support, allowing us to present the project to the public. 
1. September 2017
Impressions of the official opening
After ten years of planning and two years of construction, the official opening of AgroVet-Strickhof took place with invited guests on 1. September 2017. At 10 a.m. Ueli Voegeli, Strickhof Director, welcomed the 250 guests in the new forum. Speeches were made by Markus Kägi, District President of the Kanton of Zurich, Michael Hengartner, Rector of the University of Zurich, Lino Guzella, President of the ETH Zurich and Bernard Lehmann, Director of the Federal Office for Agriculture, who represented Johann Schneider-Ammann, member of the Swiss Federal Council.  
Documentation of the construction project:
Impressions of the opening on 1. September 2017
Photos by ETH Zurich / Alessandro Della Bella and The University of Zurich / Frank Brüderli.
Speeches at the opening ceremony of AgroVet-Strickhof on 1. September 2017
Below are transcripts of the speeches made at the opening ceremony. 

Markus Kägi, District President, Building Director of the Kanton of Zurich
Ladies and gentlemen, 
The term «AgroVet-Strickhof» has accompanied me for a very long time. At some point it began to have a life of its own. It created powerful images and represented beautiful buildings of impressive dimensions in familiar surroundings. In the mind of the viewer everything was populated by people and cattle, and then imagination and reality gradually began coming closer together.     
Now almost two years after the groundbreaking, it has definitely become a reality. This question may come as a surprise: What, ladies and gentlemen, are we actually celebrating the opening of today? 
A dairy barn for two herds, a youngstock barn, a mobile silo, a straw and dry feed storage, a metabolic centre, an office and laboratory building and a forum. Those are the buildings. 
Not a satisfactory answer is it? The list of buildings isn't really the heart of the matter. If we look at every element individually, the term «AgroVet-Strickhof» becomes lost. It is in fact a whole which is bigger than the sum of its parts.
No one of its parts are something new, there are an endless amount of them in various formats, these cow barns, silos and offices. But as a whole the world has never seen them before. We are experiencing something special, ladies and gentlemen: how an idea manages to take shape. 
At the heart of this idea belong three institutes who got together, all of them of a dignified old age. The University of Zurich exists since 1833, the Strickhof since 1853 and the ETH since 1855. The maximum age difference between the three is 22 years, and this is probably the smallest difference between the three very different institutes. Each has its own history, culture and competence. The fact that they have come together doesn't just happen like that. 
Without wanting to overrate the role of the state: The deciding impulse for the cooperation between the three institutes in the areas of veterinary and livestock science came from the state. 
At the beginning, the structural change lay in agriculture and the need for agricultural education to find new forms of cooperation. Hence the cantonal government asked Strickhof to become better connected and to look into cooperation possibilities. 
Other cantons were considered, but they did not show any interest in contrast to the ETH Zurich and the University of Zurich. In 2006 the cantonal government created the project group AgroVet-Strickhof.
Important elements already existed: the connection between practice and university, a holistic view of the whole value added chain and the usage of spare rooms at the Lindau site. 
And the rest is history. A history not without complexity as the construction work was shared by the Kanton of Zurich and the ETH Zurich. But a history that also outshone the view of one-off synergies between the representatives of agricultural practice, the higher education experts and the agricultural and veterinary scientists. 
This gave the project a gravitational attraction which I can still feel today. Even the cantonal government was captured by the project: they approved the building loan in 2014 by 167 to 0 votes. 
When one now looks at the finsihed result, one feels enthusiasm and thankfulness. The cantonal government deserves our thanks, as well as our project partners and owners ETH and University of Zurich, the political committees, the architects and the planning and construction companies. 
I would also like to thank my employees of the Building Management. They come from almost all of the cantonal departments wich demonstrates how unique this project is. 
I have already mentioned that AgroVet-Strickhof is more than the sum of its parts. But the individual parts are also imprtant. Norlammy we build hospitals or school buidlings, or we renovate a barock palace or a yoghurt factory. But normally we don't build for chickens and cows. 
Now we know how it works. We went through a considerable learning process, which made AgroVet-Strickhof a place of intensive training for us long before operations began. We can expect great things in the future. I look forward to it!
Thank you very much!
Prof. Dr. Lino Guzzella, President of the ETH Zurich und Prof. Dr. Michael Hengartner, Rector of the University of Zurich
Michael Hengartner:
Ladies and Gentlemen,
Today we are opening a lighthouse project which radiates both nationally and internationally. A project which connects agricultural sciences, veterinary medicine and agricultural higher education. I am delighted that the University of Zurich is a part of this new centre for animal sciences. 
The close cooperation and spatial proximity between the ETH, University of Zurich and the Department for Agriculture are a tradition at Strickhof. The first Strickhof sitewas opened in 1853 and was located on the current Irchel campus of the University of Zurich. Soon later the University needed this space for its own use as it was growing so quickly. The Strickhof agricultural school therefore moved to the Lindau site in 1976.   
Thankfully this spatial distance of the University of Zurich to its partners Strickhof and ETH has been reduced again. I hope that this will result in an increase in leading research results which will consequently benefit animals and people. 
Lino Guzzella:
I am also delighted to be in Lindau again today after having celebrated the groundbreaking just two years ago. This remains a fond memory for Michael and I, still boys at heart, as we got to drive a tractor! For the ETH Zurich, ladies and gentlemen, the opening of AgroVet-Strickhof marks a new chapter in a history which began over ten years ago.  
At the time, the ETH laid the foundations to strengthen agricultural sciences, with the knowledge that agricultural sciences are crucial for the solution to many core issues of our time: an increasing world population, climate change and sustainable, healthy and affordable nutrition. 
The ETH Zurich subsequently created the Department of Environmental Systems Science and the competence centre for world nutrition. It also decided to team up with the University of Zurich and Strickhof in the area of livestock. The idea of the AgroVet-Strickhof project began to take shape. 
Michael Hengartner:
Here at AgroVet-Strickhof we lay the foundations for answering important questions of the 21st century regarding animal welfare and animal health. Keeping livestock healthy is not only for our own purpose but is also important from an ecological and economic point of view. 
We do this for example by guaranteeing the sustainable production of high quality animal food products. Or by preventing illness 1. in animals, 2. between animals, and 3. between animals and humans.  
Veterinary medicine is the link between agricultural sciences, agricultural practice and human medicine both in the food chain and in cohabitation with animals. 
Lino Guzzella:
Through the partnership with the University of Zurich and Strickhof not only operational synergies were created but also a considerable added value with regards to content: The proximity between agricultural and veterinary sciences as well as fundamental research and practice is unique and an ideal precondition for new approaches which benefit everybody - a real win win win situation! 
Michael Hengartner:
One of these added values is the optimisation of veterinary education. Veterinary students at the University of Zurich learn the whole agricultural value added chain at AgroVet-Strickhof. From feed to the animal to animal food products. «From Feed to Food» or as said in German «from the grass into the glass». 
Numerous research projects at the Vetsuisse Faculty will profit from the interaction between fundamental research and applied science. For example through research into stress in livestock. Prof. Heinrich Bollwein, our University of Zurich professor for livestock and reproductive medicine has considerably contributed to better understanding the effects of stress on livestock and to developing new approaches to reduce stress. Another leading position in the area of livestock research is taken by Prof. Mike Hässig, Titular Professor for Clinical Epidemiology and today Deputy Head of Research at AgroVet-Strickhof, as well as Prof. Annette Liesegang, our University of Zurich Institute Director for Animal Nutrition. The research by both scientists has allowed us to better understand the effects of nutrition on the welfare of the animals and on the quality of livestock food products. This knowledge can also be applied prophylactically to prevent illnesses in animals and humans. 
Lino Guzzella:
When competing for the best candidates we can offer top infrastructure. This is also valid for the University of Zurich. It is not the only reason, but an important one in attracting top researchers. The perspective of working in such modern research facilties as we are opening today has played a deciding role in engaging new professors. 
Besides Michael Kreuzer, our Professor for Animal Nutrition, who closely accompanied the AgroVet-Strickhof project from its beginning, we also gained Animal Physiology Professor Susanne Ulbrich in 2013 and Animal Genomics Professor Hubert Pausch this spring. Their complemeting approches allow for comprehensive livestock research. 
Ladies and gentlemen, dear guests: In the name of the ETH Zurich and the University of Zurich I would like to thank everybody who has put their heart and soul into the realisation of AgroVet-Strickhof. One person who could unfortunately not be here today deserves special thanks. It is Roman Boutellier, Vice President of Human Resources until the end of 2014. He was a driving force behind this community project.  
I wish our researchers and students who will contribute to AgroVet-Strickhof plenty of enjoyment in discovering the potential which this new platform offers. We can all be delighted and look forward to the continuation of this success story. 
30. August 2017
Further Information
Our Highlights
Stations with technical information and expert advice
Viewing of the dairy barn and all other buildings
Experience the milking robot and milking stand
Insight into the respiration chambers
Agricultural engineering exhibition
Cattle presentation of young breeders
Farm market with regional products
ETH-BigBand performance
Tour of the ETH research station for plant sciences
Information on education offered by Strickhof
Our special highlights for small and big children
AgroVet-Strickhof mini train
Petting zoo
Watch chicks hatching
HF Agro-Technik tractor course
Build your own mini AgroVet-Strickhof
Milkshakes from SwissMilk
Catering
Steak, Bratwurst and Cervelat sausages etc.
Little chicken with french fries
Züri-Schnorre and big salad buffet
Farm ice-cream
Strickhof burger
Sunday brunch