23. August 2019
Suisse Tier - National Trade Fair for Farm Animal Husbandry
At Suisse Tier from 22 to 24 November 2019 you will meet leading suppliers and experts from the entire Swiss livestock industry. AgroVet-Strickhof will be there, visit us at our stand. Link to the Suisse Tier Homepage
6. June 2019
First AgroVet-Strickhof Conference
As already announced in November 2018, the first AgroVet-Strickhof conference will take place on 1 July 2019. Learn more about the current and planned research work and exchange ideas with the authors and researchers in personal conversations.
When? 1 July 2019 from 09:00 to 16:00 o'clock

Where? In the Forum at the AgroVet-Strickhof, Eschikon 27 in 8315 Lindau
You can find the program here: PDF (GERMAN)
19. March 2019
Agriculture of the Future – digital and sustainable?
AgriTech Day
AgriTech Day is a field day for young and old. Learn how modern science and technology can lead to sustainable solutions for Swiss agriculture. Exciting projects, demonstrations, and presentations await you on the fields in Eschikon. By participating, you can gain surprising insights from agricultural research and find out how resource-efficient and environmentally-friendly agriculture of tomorrow can look. Come and exchange ideas with our researchers!
Saturday, 25 May 2019
10:00 - 17:00
ETH-Research Station for Plant Sciences, Strickhof & AgroVet-Strickhof
Eschikon 27, 8315 Lindau

This innovative event is a collaboration of ETH Zurich, Strickhof and AgroVet-Strickhof.

15. February 2019
More environmentally friendly cows
Bovines eat a lot of soya and are the big emitters of greenhouse gases and the air pollutant ammonia. New feed additives for ruminants and an innovative cow toilet will help. >> open Article in PDF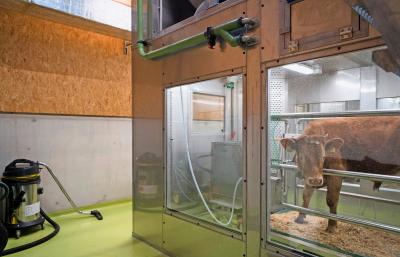 25. January 2019
Spring Conference 2019 «Big Data and Smart Livestock Farming»
On Tuesday 16 April 2019, the spring Conference of the Swiss Association of Animal Sciences (SAAS) will take place at AgroVet-Strickhof in Lindau. The topic of the conference will be «Big Data and Smart Livestock Farming». In addition to the lectures on the conference topic, there will be poster presentations on current research work in the field of animal sciences. Further information regarding the conference and the registration of poster presentations can be found on the SAAS website: http://www.svt-assa.ch/svt-tagungen.html

5. December 2018
«Young and Beef Cattle Barn AgroVet-Strickhof» opening and stabling
October 4th 2018 not only promised to be a sunny day, it was a milestone. The employees of the Eschikon Campus were able to explore the new young and beef cattle barn. Following the guided tour, there were many exciting talks and discussions about possible projects and new goals during an aperitif. But before that, Joël Bérard, Head of Research AgroVet-Strickhof, welcomed the guests from research, education and service. "AgroVet-Strickhof is like a living creature that constantly re-shapes and thrives to meet the needs of education, research and production," says Bérard. Andreas Rüsch, Strickhof Vice Director and Head of Agricultural Advisory Service, was also very pleased and thanked all those who were involved for their commitment on behalf of the Strickhof management in order to reach a successful finalization.

AgroVet-Strickhof celebrated its opening in September 2017, since then was repeatedly filed and screwed to other stables and animal shelters, so that a staggered commissioning could take place. Because research and education cannot wait. Therefore, the students could already use the existing possibilities extensively. Due to the successful completion of the last major construction phase, another milestone has been achieved, but this did not always seem so certain. Without the great commitment of Hanspeter Renfer, Head of Farm Operation, who literally used screws and fasteners at the very last minute, this would not have been possible. Therefore, it was also a special moment for him to guide the invited guests through his new barn and explain the group housing in the deep litter system as well as the high and low box system. Further, he was able to lend the special construction measures to the eager listeners, because this stable is built to the standards of an experimental animal husbandry. Moreover, there are individually programmable gates for the beef cattle, resulting in monitoring the feed intake. In addition to the needs of agricultural production, this barn must also help scientists to answer their research questions.

Already on October 8th, 2018, the first animals moved into their new home and quickly found their way into their new environment. Within a short time the animals learned to find their own feeding place and to open the gates with ease. The first project in the new stable started at the end of October. The doctoral thesis of Magdalena Kurrig (ETH Zurich) will investigate possible feeding strategies for the environmentally friendly and efficient production of high-quality beef under Swiss production conditions. These and other questions will be clarified at the new AgroVet-Strickhof Competence Center in order to contribute to livestock research.
Pictures and Impressions
2. November 2018
Save the date July 1st 2019
1st AgroVet-Strickhof Conference
Presentation of the research activities carried out in 2018
1st July 2019 from 09:00 - 16:00 o'clock at Forum, Eschikon 27, 8315 Lindau
3. October 2018
Visit the «AgroVet-Strickhof» young cattle and cattle fattening stable and opening aperitif
Thursday, 4 October 2018, 17:30 o'clock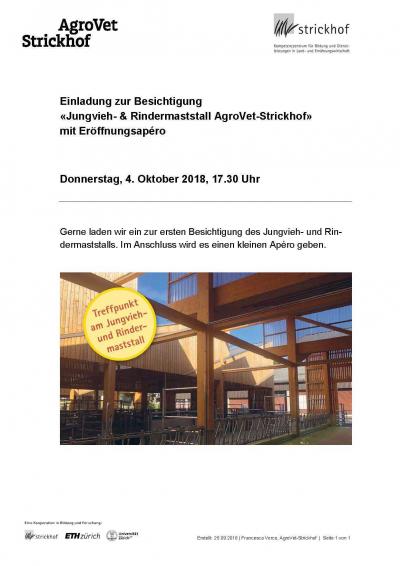 27. August 2018
3sat informed about AgroVet-Strickhof, the special farm
On Monday, 27th August 2018 3sat informed 3sat within the program «nano» about AgroVet-Strickhof in German.
This program gives a good overview about the work and the goals by AgroVet-Strickhof.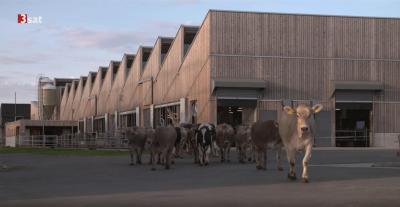 1. August 2018
Susanne Meese new employee since August 2018
Beginning August 2018 started Susanne Meese her activity as Projekt Leader by AgroVet-Strickhof, Head Research and Team.
We cordially welcome Susanne Meese in our team and we look forward to the collaboration.
17. June 2018
Start of construction on Früebüel in July 2018
After the building application was approved end of 2017 the construction work will start in July 2018.
16. August 2017