Project Früebüel
In spring 2014 the planning for the renovation and extension of Früebüel began. A working group from the ETH Zurich, including an architect and a landscape architect, made plans together with the commune of Walchwil and the Kanton of Zug to carry out the necessary infrastructure changes for the AgroVet-Strickhof concept, giving Früebüel specific new functions. The reason for this is the closure of Chamau, the main site which Früebüel was attached to until 2016. As there is a big distance between Früebüel and the main site in Lindau ZH, Früebüel must become more independent.
On 30.11.2016 the building application for the project was handed in, and is currently in the process of being approved. Construction is planned for 2018.

Realisation
Within the concept AgroVet-Strickhof infrastructural modification and enlargement will be done of Früebüel. There will be modification on buildings and the construction of fence and other facilities for fallow. Therefore other modifications are for breeding cattle, suckling cows and sheeps who will be kept on Früebüel.

Agricultural scientists as well as veterinarian will profit within science and teaching. In addition the education of farmers can improve.

The University of Zurich, the ETH Zurich and the canton of Zurich have established AgroVet-Strickhof to approach the challenge to save a sustainable and healthy production of foodstuff of animals and plants.

In the meantime the implementation planning is so far that the realisation can start in July 2018, beginning with the first phase of demolition of buildings.
Parties involved
Landowner / Promoter:
Swiss Confederation, substituted trough the ETH Zurich, directorate Immobilien
Project author:
Architecture: Alois M. Fischer, Cham

Landscape planning: Benedikt Stähli, Landsape architect BSLA, Cham

Overall direction: Lauber Ingenieure AG, Holzbau & Bauwerkserhalt, Luzern
Nutzer:
AgroVet-Strickhof (Strickhof, ETH Zürich, Universität Zürich)
Time table of the realisation
The following timetable for the realisation shows the different phases. Within the map you will find the assigned buildings in the timetable.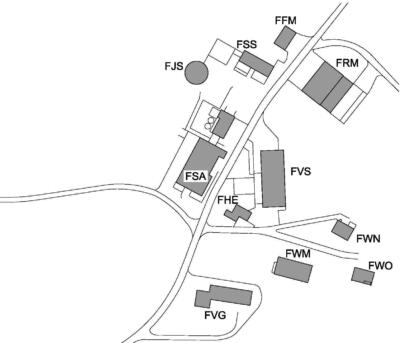 Maps and construction plan
Project overview map, actual
Construction barn: From application
Further Informationen
For questions concerning the construction please contact Simon Pfenninger Presler. For questions about research and teaching, please contact Melissa Terranova.
Construction Management:
Simon Pfenninger Presler
ETH Zurich, Abt. Immobilien
+41 44 633 84 30
pfenninger-simon@ethz.ch

Head Forschung AgroVet-Strickhof:
Dr. Melissa Terranova
ETH Zurich, AgroVet-Strickhof
+41 52 354 91 37
melissa-terranova@ethz.ch